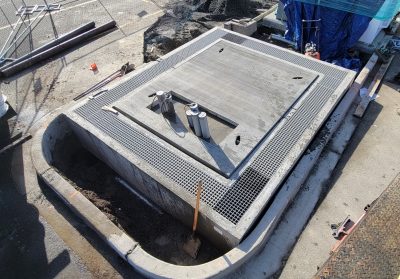 Worry-Free Protection for 100 Years
Oil containment vaults are essential for preventing leaks that can endanger the health of wildlife and people alike. Wilbert Precast's solid, durable oil containment vaults are made of precast concrete and offer worry-free protection. Prevent spills — and the excessive costs of remediation — with Wilbert Precast. 
Our oil containment vaults feature:
Double Ground Rods
Petro Pipe Cast Into Place In the Wall
700-Gallon Capacity
Pennsylvania Bolt Pockets
Verified CarbonCure product
Unlike similar products from other companies, Wilbert Precast vaults are precast rather than poured in place. They can be installed quickly by a small team, which saves money and time.
Need something specific? Contact us to learn how we can help.
For further information regarding our Oil Containment Vaults, please refer to the drawings below.